Golf Lessons with Bryan Skavnak
Happy Camp
Ages 5-7 on Mondays June 12 – August 14 (No class July 3rd) from 12-1 pm ($195)
Ages 8-12 on Mondays June 12 – August 14 (No class July 3rd) from 1-2:30 pm ($275)
Let's start out playing golf the right way. Let's focus on fun, smiles, laughter, and friendship. Because if it's not fun, why play?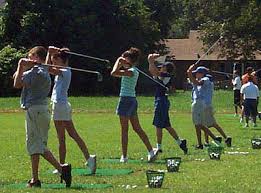 Happy Camp introduces new players to the game in a way that encourages trying new things and understanding the basics of what golf is all about. It's not about winning or having the lowest score. It's about the fun time we have with other people.
Oh, and I better mention the family week, gummy bears, and trick shots.
That's our version of golf. The happy version.
9 weeks of fun. We know you have other stuff going on…that's why we made it so long. It's okay to miss a class or two. And if you sweet-talk me (or bring me cookies), you'll probably be able to make it up.